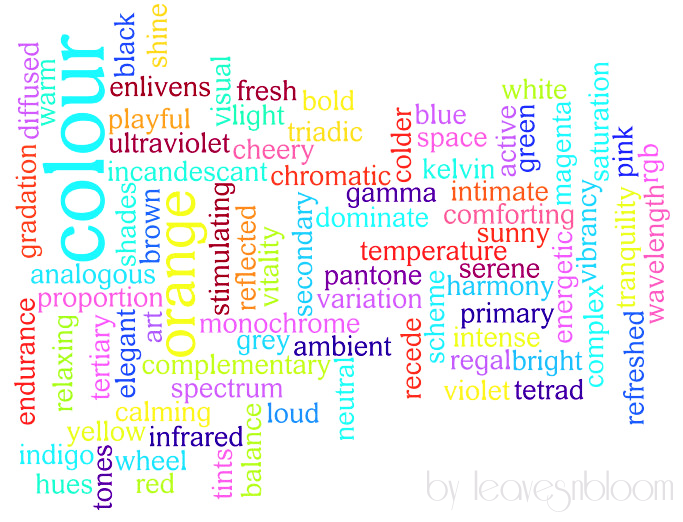 What am I going to wear today?
It's a colour decision we make every single day isn't it when we open the wardrobe............and sometimes it's easier than other times to make that choice. Colours can be cool or warm, muted or bright and all the shades in between and they subconsciously affect our moods. Even the catwalk trends normally cross over and influence our interior decor aswell as our exteriors ranging from patio furniture and soft furnishings to colourful pots and candles. If you're a gardener like myself you'll probably be planning your container and hanging basket colour scheme already for the new season as you drool over the 2012 seed catalogues.
"Colors, like features, follow the changes of the emotions." Picasso
Over a year ago

while doing web design work I discovered Adobe's Kuler and that's when I first started to use my photographs digitally to extract colour combinations. Just take one of your photos into Kuler from either your computer or from your flickr photostream and Kuler will extract colours from that photograph and arrange them in a palette.
You'll probably be surprised at what colours there actually are in that photograph. This in turn is great for a little creativity or useful in helping you choose your blog colours to go with a particular header image if you're thinking of a blog makeover or for interior designing with a favourite photographic print/canvas. You can import your colour swatches into photoshop as ase files or take a written note of their hex values. If you want to take your palette a step further you can have some fun with the colours here.
For the last few weeks

I've been featuring one of my photographs with a colour palette and now those palettes have been given a new home here on my blog.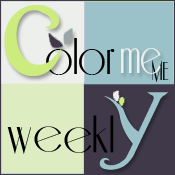 colors in button inspired by pantone
Every Monday I'll post my Color Me

me

Weekly colour palette and then I'll leave the rest up to you and you've got from Monday - to Friday to join in if you wish.
Here are some templates you can download for now but hopefully I'll be making some more of my own to share with you over the next few months.
What if I don't have Photoshop?
I know that many will think that can't join in as they don't have photoshop but if you know how to take a screen shot from your keyboard, and how to crop an image in Picasa (free) and then save the cropped screenshot as a jpeg then you'll be able to make a palette using the Color Palette Generator at Big Huge Labs. (free). If you search on google you'll find plenty of other palette generators to choose from as well. You could even take a screen shot of your kuler palette and place it in your blog post just below your photo.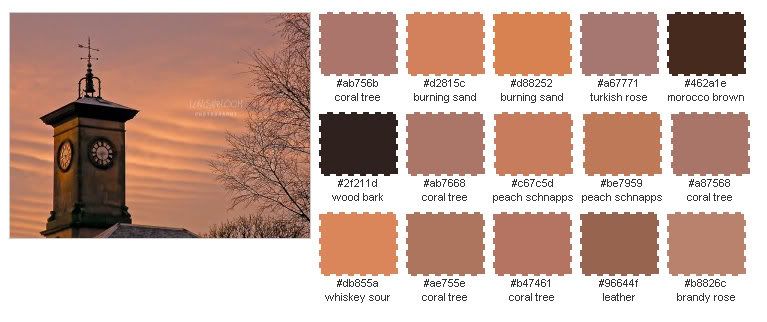 One of my bighugelabs colour palettes taken as a screenshot then saved as a jpeg.....not an exciting palette colour but this just to show what you can do in that free program.
There's another alternative as you could download Gimp or Paint.NET (both for free). I appreciate that it will take a little time to learn the programs but they are a great alternative to photoshop and lots of digital scrapbookers use these programs.
Let's get those creative juices flowing!
Those of you that are adventurous don't have to use square or rectangle palettes but can use splashes, circles, triangles or all manner of brush shapes. If you've any questions on making these palettes just leave me a little comment and I'll reply through the comments as I'm sure if you're asking then someone else is probably asking the same thing too.
I'll have my post up on Monday and you can link in from then on.............so please help spread the word and let's see some colour or color........... depending on which continent you come from.

ColorMe Weekly is now also on
G+
For all of regulars just keep linking in here each week as usual on the blog.
I'm also opening up a ColorMe Weekly page on G+ for other creative photo-artists as it is becoming a very popular place for photographers.
If you're going to post on

G+

then make sure you follow +ColorMe Weekly and
then please tag each post that contains a palette with the following:
#colormeweekly +ColorMe Weekly curated by +Rosie Leavesnbloom
just like in the example below:
Rosie is a passionate
wildlife gardener
,
perthshire photographer
and writer. She enjoys soaking up nature in her own garden and is easily distracted from doing the weeding by anything that buzzes, creeps, crawls or flutters. Connect with her on
Google Plus
and
Facebook
.
© 2009- 2013 Leavesnbloom
~ All Rights Reserved.
Like this post? Be awesome and share it !
It only takes a moment to click a button below and share with others.